THE HOLY SPIRIT IN THE LETTERS OF PAUL
Palabras clave:
Πνεῦμα – Holy Spirit – Spirit of God – Spirit of Christ – Spirit of the Lord – Spirit of life – Paul – Biblical theology – Epistles of Paul.
Resumen
AbstractThis article aims to research about the Holy Spirit in the books of Paul, discussing one of the most challenging subjects of his theological thought. Some researchers even say that the pneumatology of Paul should be considered the central aspect of his theology. The objective of this preliminary study is only to introduce this vast theme about the use of the word πνεῦμα in the epistles of Paul and also to interpret the most relevant theological affirmations about the Holy Spirit. ResumenLa meta de este artículo es investigar acerca del Espíritu Santo en los libros de Pablo y hablar de uno de los temas más desafiantes de su pensamiento teológico. Algunos investigadores incluso dicen que la pneumatología de Pablo debe ser considerada como el aspecto central de su teología. El objetivo de este estudio preliminar solo es introducir este vasto tema acerca del uso de la palabra πνεῦμα en las epístolas de Pablo e interpretar también las afirmaciones teológicas más relevantes sobre el Espíritu Santo.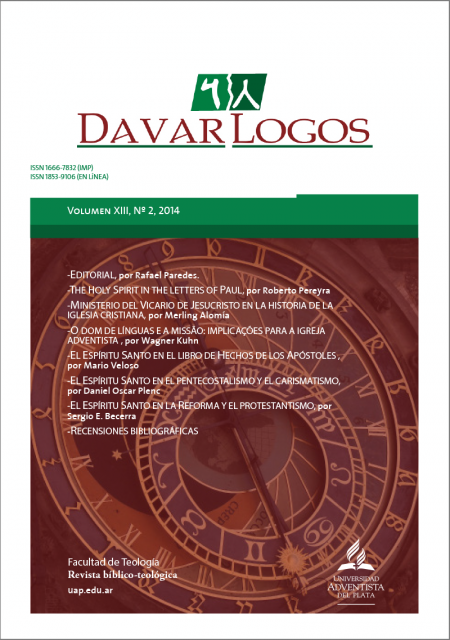 Descargas